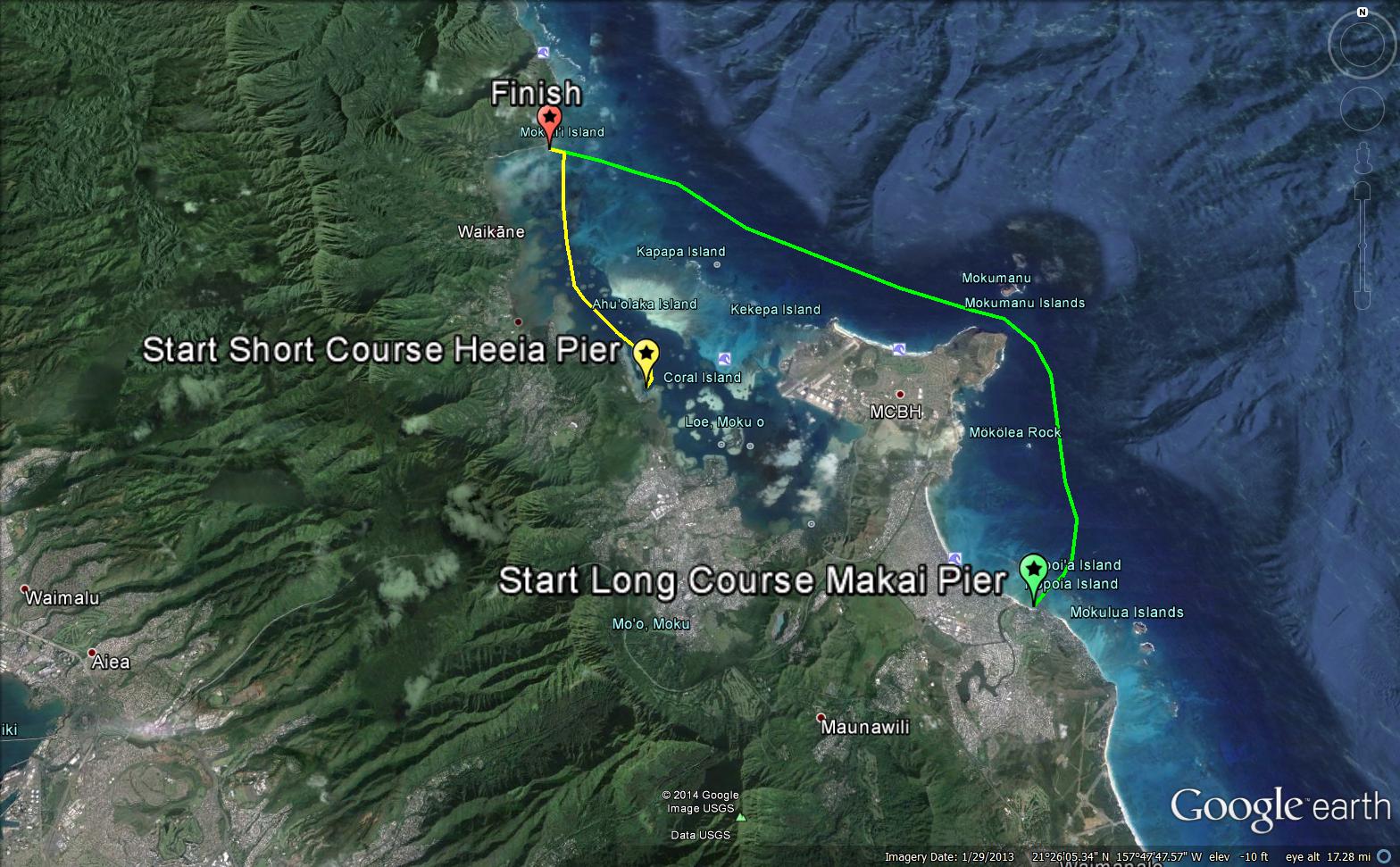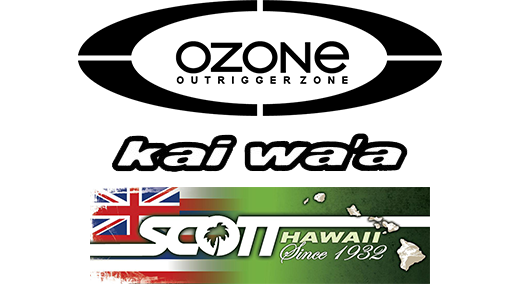 Location:

Kailua Beach Park
Pre-registration: $30.00 at Foti store in Kapaa Quarry or online at www.flpregister.com until midnight Jan. 29.
Late registration on race day: $35.00
Race day check in at Kailua Beach Park: 7:00AM–9:00AM
Divisions: OC-6, OC-3, OC-2, OC-1, Surfski, SUP, Prone paddleboard, V-1
Long course: 12 miles. Kailua Beach to Kualoa Beach
Short Course: 6 miles. Heeia Pier to Kualoa Beach. Weather pending; either out the main channel, left on the head buoy and outside Kapapa Island to Kualoa, OR if it is rough; inside the reef past the Sandbar, and to Kualoa.
This race is sponsored by Outrigger Zone & Kai Wa'a Canoes, and will include prizes from Mac 24/7, Scott Hawaii slippers, Kai Wa'a, Jamba Juice, Outrigger Zone, Green Energy, Barefoot Wine and Bubbly, Aloha Gas and Maui Jim Sunglasses.  At the end enjoy lunch and cold Cerveza Pacifico!
Note: Does not count towards MJ Waterman's series points. Cash purse included.
Place
FIRST NAME
LAST NAME
DIV
Overall Time
LONG COURSE
1
Will
Reichenstein
M-OPEN 19-29 OC-1
1:50:28
2
Makana
Denton
M-OPEN 19-29 OC-1
1:51:28
3
Travis
Grant
M-OPEN 30-39 OC-1
1:51:53
4
Bobby
Pratt
M-OPEN 19-29 OC-1
1:51:56
5
Trey
Cox
M-OPEN 19-29 OC-1
1:52:01
6
Kaihe
Chong
M-OPEN 19-29 OC-1
1:52:44
7
Brandon
Woods
M-OPEN 30-39 OC-1
1:53:11
8
Hayden
Ramler
M-OPEN 30-39 OC-1
1:53:20
9
Alika
Guillaume
M-OPEN 19-29 OC-1
1:53:46
10
Kai
Bartlett
M-OPEN 30-39 OC-1
1:53:55
11
Kekoa
Kau
M-OPEN 19-29 OC-1
1:54:31
12
Andreas
Gaeta
M-OPEN 30-39 OC-1
1:54:41
14
Kalei
Kaho'okele
M-OPEN 19-29 OC-1
1:54:38
15
Nathan
Loyola
M-OPEN 19-29 OC-1
1:54:43
16
Nick
Foti
M-OPEN 19-29 OC-1
1:55:00
17
Mario
Mausio
M-OPEN 30-39 OC-1
1:56:35
18
Victor
Agostini
M-MASTER 40-49 OC-1
1:56:36
19
Aaron
Creps
M-OPEN 30-39 OC-1
1:56:51
20
Hina-Kai
Kamakauiwoola
M-OPEN 30-39 OC-1
1:57:28
21
Chris
Tanaka
M-OPEN 30-39 OC-1
1:57:40
22
Laercio
Cito
M-OPEN 19-29 OC-1
1:58:04
23
Jace
Faufata
M-OPEN 30-39 OC-1
1:58:15
24
Nakoa
Gumapac-Mcguire
M-OPEN 19-29 OC-1
1:58:36
25
Patrick
Dolan
M-OPEN 19-29 OC-1
1:58:43
26
Mike
Kelupuleole
M-OPEN 30-39 OC-1
1:58:48
27
Leroy
Rico
M-MASTER 40-49 OC-1
1:59:28
28
Chris
Rubie
M-MASTER 40-49 OC-1
2:00:44
29
Gavin
Hanoa
M-OPEN 30-39 OC-1
2:01:17
30
Matt
Mench
M-OPEN 19-29 OC-1
2:01:27
31
Andy
Cummings
M-MASTER 40-49 OC-1
2:02:02
32
Noah
Foti
M-OPEN 19-29 OC-1
2:02:15
33
Carlton
Helm
M-OPEN 30-39 OC-1
2:02:27
34
Cheyne
Mench
M-OPEN 19-29 OC-1
2:02:29
35
Walter
Hamasaki
M-KAPUNA 57-63 OC-1
2:02:44
36
Toby
Morris
M-SR. MASTER 50-56 OC-1
2:02:46
37
Eric
Levora
M-SR. MASTER 50-56 OC-1
2:02:51
38
Keo
Skudlarick
M-OPEN 19-29 OC-1
2:03:50
39
Anthony
Ortiz
M-MASTER 40-49 OC-1
2:04:00
40
Justin
Soaves
M-OPEN 19-29 OC-1
2:04:35
41
Johnny
Lynham
M-OPEN 30-39 OC-1
2:05:13
42
Kendal
Tanigawa
M-OPEN 19-29 OC-1
2:05:25
43
Monica
Esquivel
F-OPEN 19-29 OC-1
2:05:32
44
Austin
Talley
M-OPEN 19-29 OC-1
2:06:05
45
Mark
Miller
M-SR. MASTER 50-56 OC-1
2:08:28
46
Lindsey
Shank
F-OPEN 30-39 OC-1
2:08:37
47
Kasey
Romero
M-OPEN 19-29 OC-1
2:08:43
48
Shawn
Kinimaka
M-MASTER 40-49 OC-1
2:09:14
49
Kaimana
Gomes
M-Jr.18 & Under OC-1
2:09:19
50
Christophe
Jackson
M-OPEN 30-39 OC-1
2:09:31
51
Conrad
Martin
M-OPEN 19-29 OC-1
2:09:36
52
Adrian
Flack
M-OPEN 19-29 OC-1
2:09:42
53
Mary
Smolenski
F-SR. MASTER 50-56 OC-1
2:09:53
54
Dave
Fuga
M-OPEN 30-39 OC-1
2:11:03
55
Cliff
Tillotson
M-KAPUNA 57-63 OC-1
2:11:06
56
Joe
Giovannini
M-OPEN 30-39 OC-1
2:11:31
57
Carl
Bayaca
M-MASTER 40-49 OC-1
2:11:44
59
Erik
Lange
M-OPEN 30-39 OC-1
2:12:46
58
Robert
McOwen
M-SR. MASTER 50-56 OC-1
2:13:35
60
Kane
Jervis
M-OPEN 30-39 OC-1
2:13:35
61
Eulogio
Mangasar
M-MASTER 40-49 OC-1
2:13:42
62
Joe
Kanana
M-MASTER 40-49 OC-1
2:14:30
63
Paula
Crabb
F-KAPUNA 57-63 OC-1
2:14:42
64
John
Climaldi
M-SR. MASTER 50-56 OC-1
2:15:04
65
David
Cordell
M-SR. MASTER 50-56 OC-1
2:16:08
66
Tom
Zelko
M-KAPUNA 57-63 OC-1
2:16:46
67
Dean
Spagnoli
M-MASTER 40-49 OC-1
2:17:06
68
Darryl
Ah Mau
M-MASTER 40-49 OC-1
2:19:43
69
Jami
Strapple Jingao
F-OPEN 30-39 OC-1
2:19:57
70
Galen
Chee
M-SR. MASTER 50-56 OC-1
2:20:07
71
Kelly
Smith
F-SR. MASTER 50-56 OC-1
2:20:51
72
Jason
Labranch
M-MASTER 40-49 OC-1
2:20:57
73
Jennifer
Raams
F-MASTER 40-49 OC-1
2:21:31
74
Kip
Mizushima
M-SR. MASTER 50-56 OC-1
2:21:37
75
Jennifer
Fratzke
F-OPEN 19-29 OC-1
2:22:08
76
Blair
Grant
F-OPEN 19-29 OC-1
2:22:26
77
Paul
Lee
M-MASTER 40-49 OC-1
2:23:32
78
Kellen
Garcia
F-OPEN 19-29 OC-1
2:25:18
79
Omar
Gonzalez
M-MASTER 40-49 OC-1
2:26:20
80
Blane
Chong
M-SR. MASTER 50-56 OC-1
2:32:41
81
Verena
Snively
F-OPEN 30-39 OC-1
2:33:05
82
Keani
Hardy
F-SR. MASTER 50-56 OC-1
2:34:28
83
Will
Crockett
M-Jr.18 & Under OC-1
2:35:54
1
Kapuni
Patcho
Chauncy Cody
M-OPEN(OC-2)
1:54:17
2
Denise
Darval-Chang
Traci Phillips
F-OPEN(OC-2)
1:56:17
3
Shen-Lu
Stokesbary
Rachel Fujita
F-OPEN(OC-2)
2:00:54
1
Zsolt
Szadovslki
M-MASTER 40-49 Surfski
1:41:21
2
Kaleikoa
Kaleoaloha
M-OPEN 19-29 Surfski
1:50:51
3
Guy
Wilding
M-KAPUNA 57-63 Surfski
1:54:56
4
Jeff
Chang
M-KAPUNA 57-63 Surfski
2:14:46
5
Douglas
Smith
M-SR. MASTER 50-56 Surfski
2:30:36
1
Vance
Hashimoto
M-OPEN V-1
1:58:02
2
Makena
Fernandez
M-OPEN V-1
2:05:56
3
Alexan
Arasawa
M-OPEN V-1
2:13:55
1
Team
Outrigger Hawaii
F-OC-6 Open
1:58:08
2
Are We There
Yet?
X-OC-6 Open
2:01:33
SHORT COURSE
1
Jamie
Brown
M-SR.MASTER 50-56 OC-1
1:10:02
2
Micah
Doi
M-OPEN 19-29 OC-1
1:10:17
3
Damon
Sweazy
M-SR.MASTER 50-56 OC-1
1:11:55
4
David
Pence
M-KAPUNA 57-63 OC-1
1:12:43
5
Judd
Engleman
M-MASTER 40-49 OC-1
1:12:46
6
Patrick
Aweau
M-SR.MASTER 50-56 OC-1
1:13:24
7
Todd
Finlayson
M-SR.MASTER 50-56 OC-1
1:13:41
8
Denis
Yap
M-SUPER KAPUNA 70+ OC-1
1:13:44
9
Jay
Tada
M-SR.MASTER 50-56 OC-1
1:14:02
10
David
Seghorn
M-SR.MASTER 50-56 OC-1
1:14:08
11
Wendell
Balai
M-SR.MASTER 50-56 OC-1
1:14:16
12
Brian
Kon
M-SR.MASTER 50-56 OC-1
1:14:22
13
Erwin
Soares
M-SR.MASTER 50-56 OC-1
1:16:08
14
Dana
Souza
M-OPEN 19-29 OC-1
1:17:52
15
Jeffrey
Tario
M-KAPUNA 57-63 OC-1
1:17:59
16
Ropati
Hebenstreit
M-KAPUNA 57-63 OC-1
1:18:06
17
Maurie
Feldberg
M-MASTER 40-49 OC-1
1:18:11
18
Derick
Gomes
M-SR.MASTER 50-56 OC-1
1:18:53
19
Kate
Laethem
F-OPEN 19-29 OC-1
1:19:29
20
Daniel
Sanford
M-SR.MASTER 50-56 OC-1
1:19:32
21
Leonard
Lepine
M-SUPER KAPUNA 64-69 OC-1
1:19:52
22
Gregg
Longanecker
M-SR.MASTER 50-56 OC-1
1:21:19
23
Joelle
Foti
F-MASTER 40-49 OC-1
1:21:47
24
Kaleihoku
Aweau
M-Jr.18 & Under OC-1
1:22:33
25
Michelle
Campillo-Peters
F-SR.MASTER 50-56 OC-1
1:22:57
26
Kathleen
McGovern-Hopkins
F-KAPUNA 57-63 OC-1
1:24:39
27
John
Klaiber
M-SR.MASTER 50-56 OC-1
1:33:23
28
Jared
St. John
M-SUPER KAPUNA 64-69 OC-1
1:38:25
1
Lindsay
Shinall
Julie Gomersall
F-OPEN(OC-2)
1:18:33
1
Ray
Connelly
M-SR.MASTER 50-56 Surfski
1:11:30
2
Andrew
Levora
M-Jr.18 & Under Surfski
1:16:26
1
Jeff
Metzger
M-OPEN V-1
1:15:00
2
Aaron
Costa
M-OPEN V-1
1:37:27
1
Kailua Novice
Women
F-OC-6 Open
1:09:52
2
Spark Zlugs
X-OC-6 Open
1:11:33
3
Kahekili
M-OC-6 Open
1:13:32
4
Cowgirls Up!
F-OC-6 Open
1:16:35
5
Fluffy Blue
Slippers
X-OC-6 Open
1:18:38
Short-short course
1
Tyler
Joggers
M-Stock to 14'no rdr SUP
1:05:54
2
Tony
Levora
M-Jr.18 & Under OC-1
3
Sam
Pa'e
M-Stock to 14'no rdr SUP
4
Jane
McKee
F-Open/Unlimited Class SUP
5
Peg
Tatum
F-Stock 12'6 & Under SUP
1:07:14
6
Adrian
Dy
M-Stock 12'6 & Under SUP
1:14:07
7
Kathy
Koch
F-Stock 12'6 & Under SUP
1:15:36
8
Susan
Kanour
F-Stock to 14'no rdr SUP
1:18:20