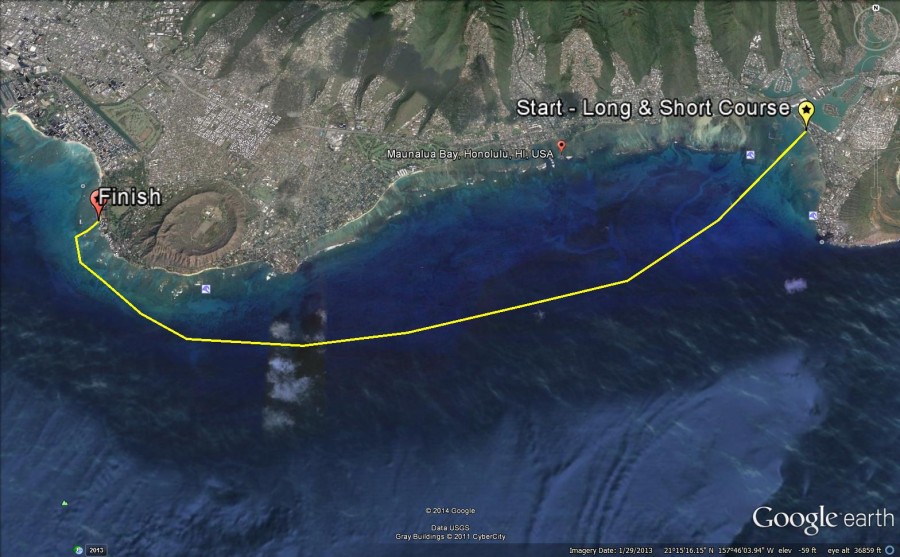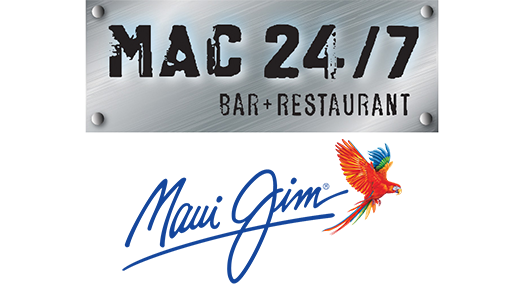 Pre-registration: $30.00 at Foti Paddlesports store in Kapaa Quarry or online at www.flpregister.com until midnight Jan. 17.
Late registration on race day: $35.00
Race day check in at Hawaii Kai: 7:00AM–9:00AM
Divisions: OC-6, OC-3, OC-2, OC-1, Surfski, SUP, Prone paddleboard, V-1 (Prone is Waterman craft of the day)
Long course: 8 miles, Hawaii Kai to Kaimana Beach around blinker buoy and wind sock
Short Course: 8 miles, Hawaii Kai to Kaimana Beach around blinker buoy and wind sock
$720.00 Purse for Prone Paddleboard!
Hotspot – Blinker Buoy: $100.00 men – $60.00 women
1st place overall: $200.00 men – $120.00 women
2nd place overall: $100.00 men – $60.00 women
3rd place overall: $50.00 men – $30.00 women
This race is sponsored by Mac 24/7 at the Hilton Waikiki Beach on Kuhio. Prizes will include Mac 24/7 Bar and Restaurant gift certificates, Scott Hawaii slippers, Aloha Gas cards, GR3EN Energy drink, Jamba Juice smoothie certificates, Barefoot Wine and Bubbly, Cerveza Pacifico and Maui Jim Sunglasses.
Maui Jim Waterman's Series #2 – Prone paddleboard
Prone Paddleboard
Name
Time
Female
1
Kanesa
Seraphin
F-Prone 12′ Paddleboard
1:38:16
2
Leanne
Darling
F-Prone 12′ Paddleboard
1:38:34
3
Rachel
Fujita
F-Prone 12′ Paddleboard
1:51:09
4
Heidi
Daniels
F-Prone 12′ Paddleboard
1:53:53
5
Nahoku
Keala
F-Prone 12′ Paddleboard
1:59:57
Male
1
Hunter
Pflueger
M-Prone 12′ Paddleboard
1:29:44
2
Aaron
Napoleon
M-Prone 12′ Paddleboard
1:33:04
3
Christian
Bradley
M-Prone 12′ Paddleboard
1:33:16
4
Peter
Balding III
M-Prone 12′ Paddleboard
1:34:11
5
Travis
Grant
M-Prone 12′ Paddleboard
1:35:56
6
Johan
Loo
M-Prone 12′ Paddleboard
1:41:24
7
John
Flanagan
M-Prone 12′ Paddleboard
1:42:24
8
Jeff
Chang
M-Prone 12′ Paddleboard
1:44:06
9
Joshua
Jackson
M-Prone 12′ Paddleboard
1:44:23
10
Mark
Miller
M-Prone 12′ Paddleboard
1:45:21
11
James
Donovan
M-Prone 12′ Paddleboard
1:53:47
12
Ed
Price
M-Prone 12′ Paddleboard
1:58:28
13
Doug
Smith
M-Prone 12′ Paddleboard
2:20:42
Overall Place
No.
Course
FName
Lname
Fname2
Lname2
Division
Time
LONG COURSE
1
569
Long
Zsolt
Szadovslki
M-MASTER 40-49 Surfski
57:26:00
2
633
Long
Pat
Dolan
M-OPEN 19-29 Surfski
59:34:00
3
635
Long
Brady
Piercy
M-OPEN 30-39 Surfski
1:01:25
4
571
Long
Kaleikoa
Kaleoaloha
M-OPEN 19-29 Surfski
1:02:27
5
652
Long
Courtney
Seto
M-SR.MASTER 50-56 Surfski
1:03:07
6
512
Long
Kaihe
Chong
M-OPEN 19-29 OC-1
1:03:14
7
570
Long
Bobby
Pratt
M-OPEN 19-29 OC-1
1:03:45
8
563
Long
Hayden
Ramler
M-OPEN 30-39 OC-1
1:03:58
9
667
Long
Trey
Cox
M-OPEN 19-29 OC-1
1:04:07
10
610
Long
Heinere
Itchner
M-OPEN V-1
1:04:38
11
689
Long
Kekoa
Kau
Kalei
Kahookele
M-OC-3 Open
1:05:01
12
688
Long
Austin
Talley
M-OPEN 19-29 OC-1
1:05:05
13
599
Long
Chris
Tanaka
M-OPEN 30-39 OC-1
1:05:18
14
676
Long
John
Hoogsteden
M-SR.MASTER 50-56 Surfski
1:05:24
15
651
Long
Victor
Agostini
M-MASTER 40-49 OC-1
1:05:37
16
623
Long
Austin
Schwinn
M-OPEN 19-29 Surfski
1:06:28
17
550
Long
Denise
Darval-Cha
Tracy
Phillips
F-OPEN(OC-2)
1:06:32
18
546
Long
Vance
Hashimoto
M-OPEN V-1
1:06:59
19
572
Long
Chauncey
Cody
M-OPEN V-1
1:07:16
20
680
Long
Mario
Mausio
M-OPEN 30-39 OC-1
1:07:32
21
657
Long
Raven
Aipa
M-SR. MASTER 50-56 OC-1
1:07:35
22
668
Long
Hina-Kai
Kamakaui
M-OPEN 30-39 OC-1
1:07:57
23
596
Long
Sean
Kaawa
M-OPEN V-1
1:08:01
24
588
Long
Nakoa
Gumapac-Mcg
M-OPEN 19-29 OC-1
1:08:16
25
641
Long
Donna
Kahakui
F-SR. MASTER 50-56 OC-1
1:08:18
26
650
Long
Justin
Akana
M-OPEN 30-39 OC-1
1:08:55
27
659
Long
Leleo
Kinimaka
M-SR. MASTER 50-56 OC-1
1:09:06
28
619
Long
Matt
Neal
M-MASTER 40-49 OC-1
1:09:20
29
529
Long
Eric
Levora
M-SR. MASTER 50-56 OC-1
1:09:26
30
526
Long
Jordan
Rose
M-OPEN 19-29 Surfski
1:09:39
31
675
Long
Leroy
Rico
M-MASTER 40-49 OC-1
1:09:42
32
664
Long
Kendal
Tanigawa
M-OPEN 19-29 OC-1
1:10:06
33
648
Long
Alexandar
Lee
M-Jr.18 & Under OC-1
1:10:15
34
665
Long
Kaulu
Luuwai
Noah Foti
X-OPEN(OC-2)
1:10:23
35
640
Long
Fred
Delos Santos
M-KAPUNA 57-63 OC-1
1:10:27
36
547
Long
Amy
Lawson Woodwa
F-OPEN 19-29 OC-1
1:10:31
37
670
Long
Nainoa
Orr
M-Jr.18 & Under Surfski
1:10:36
38
544
Long
Jamie
Brown
M-SR. MASTER 50-56 OC-1
1:11:00
39
541
Long
Johnny
Lynham
M-OPEN 30-39 OC-1
1:11:10
40
528
Long
Arlene
Holzman
F-MASTER 40-49 OC-1
1:11:13
41
562
Long
Kane
Jervis
M-OPEN 30-39 OC-1
1:11:36
42
653
Long
Vaimana
Conner
M-OPEN 30-39 OC-1
1:11:39
43
542
Long
Mary
Smolenski
F-SR. MASTER 50-56 OC-1
1:11:40
44
671
Long
Dorren
Orr
Corlyn Orr
X-OPEN(OC-2)
1:11:43
45
519
Long
Monica
Esquivel
F-OPEN 19-29 OC-1
1:11:47
46
531
Long
Adrian
Flack
M-OPEN 19-29 OC-1
1:12:14
47
631
Long
Alfred
Vangieson
M-OPEN(OC-2)
1:12:20
48
679
Long
Christopher
Jacks
M-OPEN 30-39 OC-1
1:12:32
49
634
Long
Kenny
Esquivel
M-OPEN 30-39 OC-1
1:12:40
50
661
Long
Mike
Coleman
M-KAPUNA 57-63 OC-1
1:13:26
51
654
Long
Jacob
McFarlane
M-Jr.18 & Under Surfski
1:13:34
52
643
Long
Dave
Fuga
M-OPEN 30-39 OC-1
1:13:38
53
595
Long
Nikki
Radford
F-MASTER 40-49 OC-1
1:13:46
54
568
Long
Eulogio
Mangasar
M-MASTER 40-49 OC-1
1:13:48
55
537
Long
Paula
Crabb
F-KAPUNA 57-63 OC-1
1:14:20
56
549
Long
Anella
Borges
F-OPEN 30-39 OC-1
1:14:36
57
592
Long
Tom
Zelko
M-KAPUNA 57-63 OC-1
1:14:43
58
574
Long
Alexandar
Arasawa
M-OPEN V-1
1:15:03
59
644
Long
Darryl
Ah Mau
M-MASTER 40-49 OC-1
1:15:48
60
649
Long
Tyler
Silva
M-Jr.18 & Under Surfski
1:15:52
61
646
Long
Jami
Strapple-Jin
F-OPEN 30-39 OC-1
1:16:04
62
268
Long
Alvin
Kahoonei
M-SR. MASTER 50-56 OC-1
1:16:17
63
630
Long
Matthew
Dubrule
M-OPEN(OC-2)
1:16:31
64
613
Long
Team
Ray
F-OC-6 Open
1:17:09
65
669
Long
Dean
Spagnoli
M-MASTER 40-49 OC-1
1:17:17
66
666
Long
Paul
King
M-OPEN 30-39 OC-1
1:18:41
67
639
Long
Kealohi
Aweau
F-OPEN 19-29 OC-1
1:22:39
68
534
Long
Michelle
Campillo
F-SR. MASTER 50-56 OC-1
1:24:33
69
584
Long
Catherine
Bender
F-KAPUNA 57-63 OC-1
1:25:57
SHORT COURSE
1
645
Short
Kaeo
Kaleoaloha
M-MASTER 40-49 Surfski
1:11:04
2
579
Short
Micah
Doi
M-OPEN 19-29 OC-1
1:11:56
3
516
Short
Ray
Connelly
M-SR.MASTER 50-56 Surfski
1:13:05
4
617
Short
Nathan
Deyoe
M-Jr.18 & Under OC-1
1:13:29
5
636
Short
Blane
Chong
M-SR.MASTER 50-56 Surfski
1:13:39
6
552
Short
Damon
Sweazy
M-SR.MASTER 50-56 OC-1
1:13:45
7
658
Short
Michael
Hall
M-SR.MASTER 50-56 OC-1
1:14:03
8
655
Short
Jay
Tada
M-SR.MASTER 50-56 OC-1
1:14:23
9
662
Short
Galen
Chee
M-SR.MASTER 50-56 OC-1
1:14:34
10
674
Short
Patrick
Aweau
M-SR.MASTER 50-56 OC-1
1:14:49
11
567
Short
Judd
Engleman
M-MASTER 40-49 OC-1
1:14:58
12
551
Short
Twain
Newhart
M-SR.MASTER 50-56 OC-1
1:15:07
13
632
Short
Pete
Mainz
M-OPEN 30-39 OC-1
1:15:17
14
690
Short
Kamee
Kahookele
M-OPEN 19-29 OC-1
1:15:19
15
564
Short
Brian
Kon
M-SR.MASTER 50-56 OC-1
1:15:50
16
575
Short
Wendell
Balai
M-SR.MASTER 50-56 OC-1
1:15:59
17
687
Short
Andrew
Levora
M-Jr.18 & Under Surfski
1:16:37
18
510
Short
Erwin
Soares
M-SR.MASTER 50-56 OC-1
1:16:59
19
600
Short
Kip
Mizushima
M-SR.MASTER 50-56 OC-1
1:17:52
20
511
Short
David
Seghorn
M-SR.MASTER 50-56 OC-1
1:18:02
21
663
Short
Jeffrey
Tario
M-KAPUNA 57-63 OC-1
1:18:09
22
660
Short
Todd
Finlayson
M-SR.MASTER 50-56 OC-1
1:18:18
23
573
Short
Kaleihoku
Aweau
M-Jr.18 & Under OC-1
1:18:21
24
681
Short
Ropati
Hebenstrei
M-KAPUNA 57-63 OC-1
1:18:34
25
642
Short
Keapo
McKeney
M-Jr.18 & Under OC-1
1:19:08
26
625
Short
Chase
Kessler
M-Jr.18 & Under OC-1
1:19:26
27
616
Short
Joelle
Foti
F-MASTER 40-49 OC-1
1:19:27
28
591
Short
Steffun
Salvador
M-MASTER 40-49 OC-1
1:19:56
29
656
Short
Kate
Laethem
F-OPEN 19-29 OC-1
1:20:33
30
638
Short
David
Pence
M-KAPUNA 57-63 OC-1
1:20:42
31
518
Short
Gregg
Longaneck
M-SR.MASTER 50-56 OC-1
1:21:46
32
543
Short
Lori
Hashimoto
F-MASTER 19-29 OC-1
1:22:40
33
17
Short
Robert
Stehlik
M-Open/Unlimited Class SUP
1:23:39
34
678
Short
Maurie
Feldberg
M-MASTER 40-49 OC-1
1:24:35
35
581
Short
Dana
Souza
M-OPEN 19-29 OC-1
1:24:55
36
673
Short
Tyler
Joggers
M-Stock to 14'no rdr SUP
1:29:02
37
22
Short
Kane
Pai
M-Stock to 14'no rdr SUP
1:29:07
38
25
Short
Hunter
Pflueger
M-Prone 12′ Paddleboard
1:29:44
39
18
Short
Andrew
Ching
M-Stock to 14'no rdr SUP
1:30:06
40
70
Short
Aaron
Napoleon
M-Prone 12′ Paddleboard
1:33:04
41
21
Short
Christian
Bradley
M-Prone 12′ Paddleboard
1:33:16
42
15
Short
Peter
Balding III
M-Prone 12′ Paddleboard
1:34:11
43
637
Short
Nani
Woolsey
F-OPEN 19-29 OC-1
1:34:19
44
672
Short
Jane
McKee
F-Open/Unlimited Class SUP
1:35:30
45
20
Short
Travis
Grant
M-Prone 12′ Paddleboard
1:35:56
46
514
Short
Sam
Pa'e
M-Stock to 14'no rdr SUP
1:36:19
47
615
Short
Dani
Gay
F-MASTER 40-49 OC-1
1:36:32
48
43
Short
Kanesa
Seraphin
F-Prone 12′ Paddleboard
1:38:16
49
23
Short
Sven
Wesley
M-Stock to 14'no rdr SUP
1:39:38
50
530
Short
Tony
Levora
M-Jr.18 & Under OC-1
1:39:42
51
19
Short
Albert
Verdadero
M-Stock 12'6 & Under SUP
1:40:18
52
677
Short
Steve
Reeves
M-Stock to 14'no rdr SUP
1:41:16
53
12
Short
Johan
Loo
M-Prone 12′ Paddleboard
1:41:24
54
24
Short
John
Flanagan
M-Prone 12′ Paddleboard
1:42:24
55
539
Short
Jennifer
Polcer
F-Stock to 14'no rdr SUP
1:42:28
56
647
Short
Jon
Bell
M-Stock to 14'no rdr SUP
1:43:32
57
16
Short
Jeff
Chang
M-Prone 12′ Paddleboard
1:44:06
58
13
Short
Joshua
Jackson
M-Prone 12′ Paddleboard
1:44:23
59
614
Short
Herbie
Titcomb
M-Stock to 14'no rdr SUP
1:44:27
60
42
Short
Mark
Miller
M-Prone 12′ Paddleboard
1:45:21
61
11
Short
Rachel
Fujita
F-Prone 12′ Paddleboard
1:51:09
62
44
Short
James
Donovan
M-Prone 12′ Paddleboard
1:53:47
63
14
Short
Heidi
Daniels
F-Prone 12′ Paddleboard
1:53:53
64
565
Short
Ed
Price
M-Prone 12′ Paddleboard
1:58:28
65
10
Short
Nahoku
Keala
F-Prone 12′ Paddleboard
1:59:57
66
536
Short
Susan
Kanour
F-Stock to 14'no rdr SUP
2:04:46