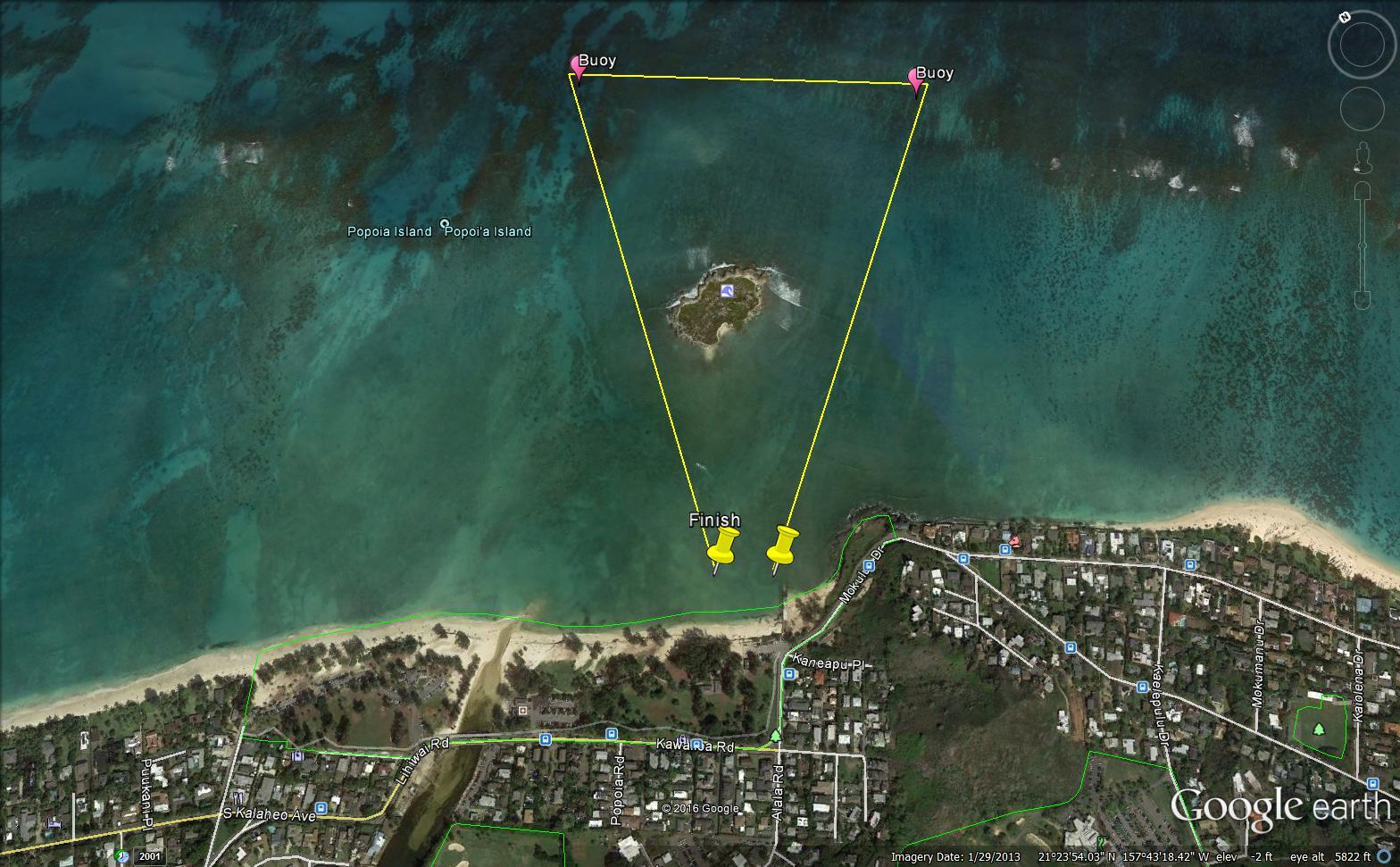 ANCHOR SYSTEMS HAWAII RUMBLE ON THE REEF
KIRA #5 Kailua Beach.
Paddle, Swim, Paddle, Run.
Relay – Iron
SUNDAY February 25, 2018. 9:00 a.m. start
Maui Jim Ocean Shootout preview Lunch provided by
Kialoa Competition: Juniors 14, 16 and 18. Male and Female wins $100.00 gift certificate from kialoa.com.
RUMBLE ON THE REEF:  A paddle-swim-paddle-run format that will be run on a course around buoys inside of Flat Island that can be entered either solo or as a relay.
COURSE AND FORMAT:  The 16 and under Jr. course will be shorter than the open course.  The open course will be approximately as follows:
Fronting Kailua Beach (Boat Ramp side), there will be 1 short swim leg, 1 short beach run and 2 paddling legs (2 different types of paddle craft).
1st leg: Choose to paddle either a 12' prone paddleboard or a 14' and under SUP board (with no rudder) for approximately 1.5 miles (there will be a slightly shorter, handicapped length for prone)
2nd leg: An approximate 250 meter swim.
3rd leg: Choose to paddle either a surfski or an OC-1 for approximately 2 miles (There will be a slightly shorter, handicapped length for OC-1)
4th leg: An approximate 1 mile beach run.
FOR THE ADULT COURSE(S), THERE WILL BE A PREMIER SOLO EVENT FOLLOWED BY A RELAY, WHICH CAN HAVE 2 OR 3 TEAM MEMBERS.  ENTRANTS IN THE SOLO EVENT CAN ALSO RACE IN THE RELAY.
Juniors can elect to race solo or relay, and are welcome to race again in an older age group and/or open division, and also may join the adult relay event on a team.
Juniors will race first followed by the open events. (6 x SUP boards and paddles will be provided by Blowfish inflatable SUP boards).
For juniors, there will be age groups of 12, 14, 16 and 18 and under. The 18s will go with the open division, The other age groups will have a shorter course.
IF YOU DON'T HAVE A PRONE OR SUP BOARD, BLOWFISH INFTATABLE SUP WILL HAVE SOME BOARDS AND PADDLES FOR PEOPLE TO USE, AND ANCHOR SYSTEMS HAS SOME PRONE BOARDS, AT NO COST.
DIVISIONS:
SOLO: Juniors: 12, 14, 16, 18 (& under), 19-29, 30-39, 40-49, 50-56, 57-63, 64-70, 70+.  There may be heats as needed based on competitors and equipment.
RELAY: Juniors, Open Male, Female and Mixed.  At least 1 of the 2 or 3 relay team members must be female, and female must do 2 legs.
TIME LINE (Approximate):
Registration/check in: 7:00 – 9:00
Juniors course: 9:00

12s, 14s then 16s. May combine age groups, boys and girls, participation pending.

Open course: 11:00

Iron event first followed by the relay event.

Event wrap up: 2:00
COSTS:
Pre-registration online at www.flpregister.com until FRIDAY midnight Feb. 23.
Solo: $32.00 ($12.00 for Juniors 18 and under).  Late registration = $40.00 (Jrs. = $20)
Relay: $22.00 ($12.00 for juniors). Late registration = $30.00 (Jrs. = $15)
Race day check in at Kailua Beach Park – BOAT RAMP: 7:00AM–9:00AM
EVENT PARKING: Ka'ohao (Lanikai) Elementary School.  Drop equipment at the beach and park in the school to keep congestion to a minimum.
Lunch provided by 
TIMMY T'S GOURMET GRINDERS, and raffle prizes from our sponsors: