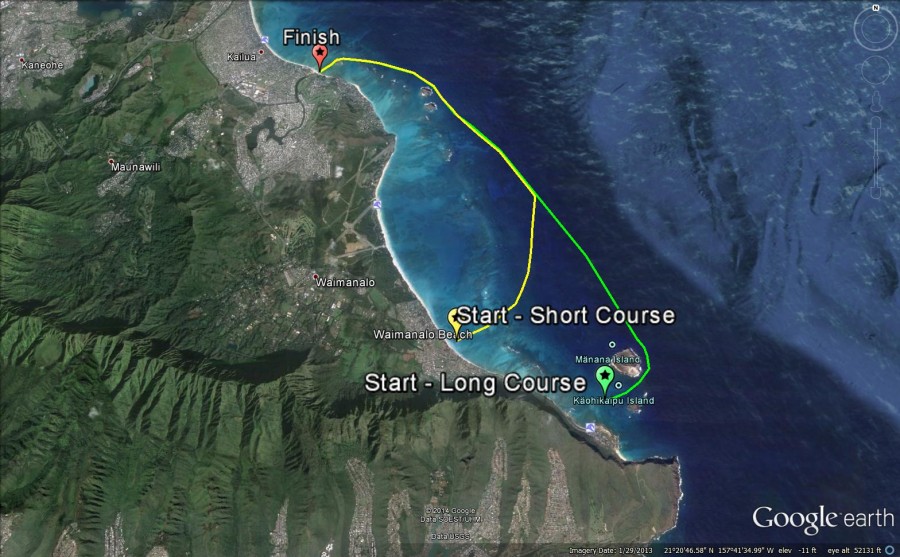 PACIFIC PADDLER MAKAILUA
KIRA #1. Makai Pier to Kailua
SATURDAY January 06, 2018.  10:00 a.m. start
Maui Jim Waterman's Series #1 (for V-1 Rudderless Va'a)
Kialoa Competition:  Single canoe (OC-1 or V-1) long course 64 + division. Male and Female
Pre-registration: $32.00 ($12.00 for Juniors 18 and under) online at www.flpregister.com until Thursday midnight Jan. 04.
Late registration on race day: $40.00
Race day check in at Makai Pier: 7:00AM–9:00AM.
Divisions:  OC-6, OC-3, OC-2, OC-1, Surfski, SUP, Prone paddleboard, V-1.
Long course:  8 miles, Makai Pier (around Rabbit, Mokulua and Flat islands) to Kailua Beach Park.
Short Course:  5 miles, Waimanalo Beach Park to Kailua Beach Park.
Race anything you want, but if you have a V-1, this is the day to paddle rudderless!
$660.00 Purse for V-1 Rudderless canoes.
| | |
| --- | --- |
| V-1 Hotspot–End of Rabbit Isle: | $75.00 men  –  $75.00 women |
| 1st place overall: | $125.00 men  –  $125.00 women |
| 2nd place overall: | $80.00 men  –  $80.00 women |
| 3rd place overall: | $50.00 men  –  $50.00 women |
Results
At the end of the race in Kailua Park enjoy hot Boston style pizza from BOB'S PIZZERIA and prizes from our sponsors: