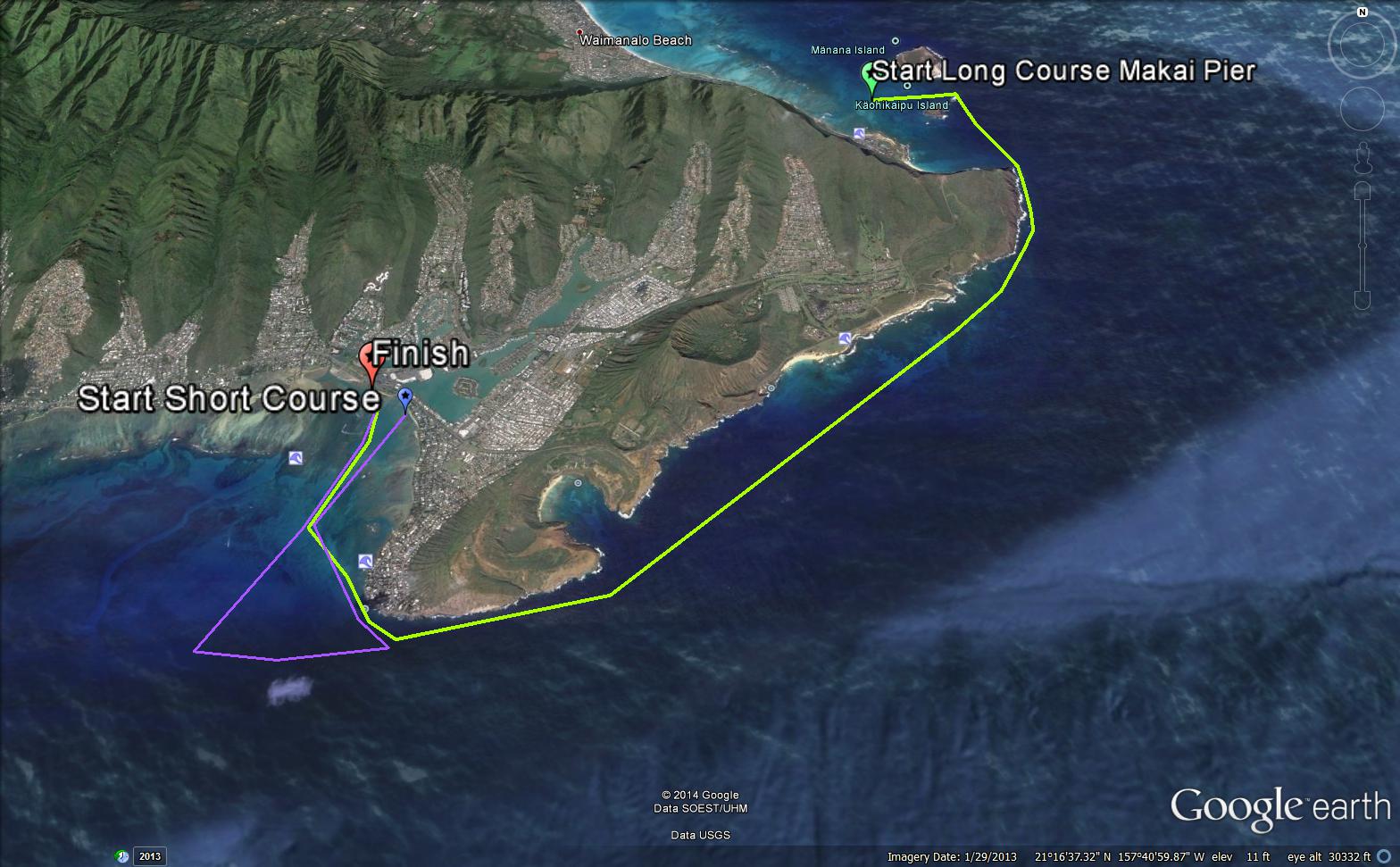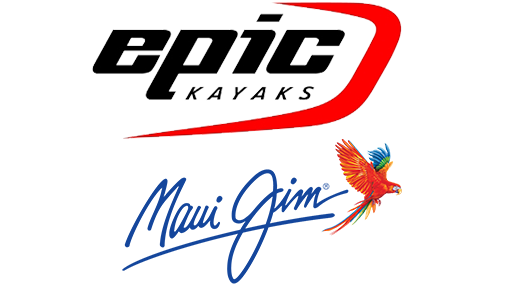 Pre-registration: $30.00 at Foti Paddlesports store in Kapaa Quarry or online at www.flpregister.com until midnight Feb. 07.
Late registration on race day: $35.00
Race day check in at Hawaii Kai: 7:00AM–9:00AM
Divisions: OC-6, OC-3, OC-2, OC-1, Surfski, SUP, Prone paddleboard, V-1 (Surfski is Waterman craft of the day)
Long course: 9 miles. Makai Pier-around Black Rock – around south end of Oahu, finish in Hawaii Kai
Short Course: 5 miles. Triangle course off Hawaii Kai
$720.00 Purse for Surfski!
Hotspot – Makapu'u point: $100.00 men – $60.00 women
1st place overall: $200.00 men – $120.00 women
2nd place overall: $100.00 men – $60.00 women
3rd place overall: $50.00 men – $30.00 women
This race is sponsored by EPIC KAYAKS. Prizes will include Mac 24/7 Bar and Restaurant gift certificates, Scott Hawaii slippers, Aloha Gas cards, Barefoot Wine, Cerveza Pacifico, Whole Foods gift certificates, Jamba Juice smoothie certificates, Mahiku Activewear Capri pants, GR3EN Energy, Maui Jim Sunglasses and more.
Lunch provided by Whole Foods Market.
Epic Kayaks Makapu'u Dash – Maui Jim Waterman's Series #3: Surfski Results
Overall Place
Craft
FIRST NAME
LAST NAME
FIRST NAME2
LAST NAME2
DIVISION
Overall Time
LONG COURSE
1
Surfski
Zsolt
Szadovski
M-MASTER 40-49 Surfski
1:07:39
2
Surfski
Pat
Dolan
M-OPEN 19-29 Surfski
1:08:54
3
Surfski
Brandon
Woods
M-OPEN 30-39 Surfski
1:09:42
4
Surfski
Travis
Grant
M-OPEN 30-39 Surfski
1:10:43
5
Surfski
Borys
Markin
M-OPEN 30-39 Surfski
1:12:57
6
Surfski
Kaihe
Chong
M-OPEN 19-29 Surfski
1:13:42
7
Surfski
Brady
Piercy
M-OPEN 30-39 Surfski
1:13:51
8
Surfski
Courtney
Seto
M-SR.MASTER 50-56 Surfski
1:15:21
9
Surfski
Alexander
Lee
M-Jr.18 & Under Surfski
1:15:31
10
Surfski
Jim
Foti
M-MASTER 40-49 Surfski
1:15:41
11
Surfski
Ed
Joy
M-SR.MASTER 50-56 Surfski
1:16:58
12
Surfski
John
Hoogsteden
M-SR.MASTER 50-56 Surfski
1:17:02
13
Surfski
Dolan
Eversole
M-MASTER 40-49 Surfski
1:18:17
14
Surfski
Matthew
Dubrule
M-MASTER 40-49 Surfski
1:18:52
15
Surfski
Kaleikoa
Kaleoaloha
M-OPEN 19-29 Surfski
1:22:21
16
Surfski
Mary
Smolenski
F-SR.MASTER 50-56 Surfski
1:22:33
17
Surfski
Jordan
Rose
M-OPEN 19-29 Surfski
1:24:47
18
Surfski
Tyler
Jaggers
M-OPEN 19-29 Surfski
1:25:36
19
Surfski
Aaron
Napolean
M-MASTER 40-49 Surfski
1:25:56
20
Surfski
Beata
Cseke
F-OPEN 30-39 Surfski
1:26:18
21
Surfski
Rachel
Fujita
F-OPEN 19-29 Surfski
1:29:51
22
Surfski
Guy
Gililand
M-SR.MASTER 50-56 Surfski
1:30:40
23
Surfski
Anella
Borges
F-OPEN 30-39 Surfski
1:32:54
24
Surfski
Rick
Maurer
M-MASTER 40-49 Surfski
1:34:04
25
Surfski
Laura
Ediger
F-OPEN 30-39 Surfski
1:34:53
26
Surfski
Jeff
Chang
M-KAPUNA 57-63 Surfski
1:36:41
27
Surfski
Nahoku
Keala
F-OPEN 19-29 Surfski
1:36:58
28
Surfski
Joanna
Reihardt
F-MASTER 40-49 Surfski
1:46:38
29
Surfski
Douglas
Smith
M-SR.MASTER 50-56 Surfski
1:50:16
1
OC-1
Jimmy
Austin
M-OPEN 30-39 OC-1
1:17:46
2
OC-1
Bobby
Pratt
M-OPEN 19-29 OC-1
1:18:29
3
OC-1
Alika
Guillaume
M-OPEN 19-29 OC-1
1:18:38
4
OC-1
Nick
Foti
M-OPEN 19-29 OC-1
1:18:55
5
OC-1
Heath
Hemmings
M-MASTER 40-49 OC-1
1:19:07
6
OC-1
Chris
Tanaka
M-OPEN 30-39 OC-1
1:19:14
7
OC-1
Austin
Talley
M-OPEN 19-29 OC-1
1:19:27
8
OC-1
Victor
Agostini
M-MASTER 40-49 OC-1
1:20:21
9
OC-1
Mike
Kelupuleole
M-OPEN 30-39 OC-1
1:22:20
10
OC-1
Francisco
Arango
M-OPEN 30-39 OC-1
1:22:29
11
OC-1
Rico
Leroy
M-MASTER 40-49 OC-1
1:22:59
12
OC-1
Gavin
Hanoa
M-OPEN 30-39 OC-1
1:23:03
13
OC-1
Noah
Foti
M-OPEN 19-29 OC-1
1:24:48
14
OC-1
Andy
Cummings
M-MASTER 40-49 OC-1
1:25:05
15
OC-1
Kasey
Romero
M-OPEN 19-29 OC-1
1:25:17
16
OC-1
Johnny
Lynham
M-OPEN 30-39 OC-1
1:26:27
17
OC-1
Eric
Levora
M-SR. MASTER 50-56 OC-1
1:26:39
18
OC-1
Kaimana
Gomes
M-Jr.18 & Under OC-1
1:26:57
19
OC-1
Cory
Nakamura
M-OPEN 30-39 OC-1
1:26:59
20
OC-1
J
Donovan III
M-SR. MASTER 50-56 OC-1
1:27:13
21
OC-1
Justin
Soares
M-OPEN 19-29 OC-1
1:27:16
22
OC-1
Philip
Yee
M-MASTER 40-49 OC-1
1:27:25
23
OC-1
Walter
Hamasaki
M-KAPUNA 57-63 OC-1
1:27:28
24
OC-1
Monica
Esquivel
F-OPEN 19-29 OC-1
1:27:29
25
OC-1
Lindsey
Shank
F-OPEN 30-39 OC-1
1:28:13
26
OC-1
Joe
Giovannini
M-OPEN 30-39 OC-1
1:28:40
27
OC-1
Kenny
Esquivel
M-OPEN 30-39 OC-1
1:28:42
28
OC-1
Amy
Lawson Woodward
F-OPEN 19-29 OC-1
1:28:50
29
OC-1
Ryan
Nakamura
M-OPEN 19-29 OC-1
1:29:01
30
OC-1
Kane
Jervis
M-OPEN 30-39 OC-1
1:29:22
31
OC-1
Inoar
Lange
M-OPEN 30-39 OC-1
1:29:58
32
OC-1
Cliff
Tillotson
M-KAPUNA 57-63 OC-1
1:30:33
33
OC-1
David
Seghorn
M-SR. MASTER 50-56 OC-1
1:33:01
34
OC-1
Tom
Zelko
M-KAPUNA 57-63 OC-1
1:33:14
35
OC-1
Carl
Bayaca
M-MASTER 40-49 OC-1
1:33:32
36
OC-1
Robert
McOwen
M-SR. MASTER 50-56 OC-1
1:33:44
37
OC-1
Jennifer
Raams
F-MASTER 40-49 OC-1
1:34:18
38
OC-1
Ed
Wheeler
M-MASTER 40-49 OC-1
1:34:36
39
OC-1
Nikki
Radford
F-MASTER 40-49 OC-1
1:35:06
40
OC-1
Eulogio
Mangasar
M-MASTER 40-49 OC-1
1:36:22
41
OC-1
Dean
Spagnoli
M-MASTER 40-49 OC-1
1:36:53
42
OC-1
Yohannes
Negga
M-MASTER 40-49 OC-1
1:37:14
43
OC-1
Jennifer
Fratzke
F-OPEN 19-29 OC-1
1:37:15
44
OC-1
Jennifer
Fisher
F-SR. MASTER 50-56 OC-1
1:37:49
45
OC-1
Kelly
Smith
F-SR. MASTER 50-56 OC-1
1:38:02
46
OC-1
John
Climaldi
M-SR. MASTER 50-56 OC-1
1:40:09
47
OC-1
Adrian
Flack
M-OPEN 19-29 OC-1
1:43:42
48
OC-1
Karin
Hansen Del Rey
F-MASTER 40-49 OC-1
1:51:38
1
OC-2
Denise
Darval-Chang
Kehau
Chang
F-OPEN(OC-2)
1:22:27
2
OC-2
Shen-Lu
Stokesbary
Jill
Schooler
F-OPEN(OC-2)
1:24:37
3
OC-2
Hilary
Denison
Liat
Portner
F-OPEN(OC-2)
1:34:11
1
OC-6
Team
Ray
F-OC-6 Open
1:36:30
2
V-1
Vance
Hashimoto
M-OPEN V-1
1:20:23
3
V-1
Hayden
Ramler
M-OPEN V-1
1:21:51
4
V-1
Chauncey
Cody
M-OPEN V-1
1:23:57
5
V-1
Jordan
Long
M-OPEN V-1
1:26:31
6
V-1
Darin
Kohara
M-OPEN V-1
1:30:16
7
V-1
Alex
Arasawa
M-OPEN V-1
1:33:09
Overall Place
Craft
FIRST NAME
LAST NAME
FIRST NAME2
LAST NAME
DIVISION
DIVISION
Overall Time
SHORT COURSE
1
OC-1
Jamie
Brown
1
M-SR.MASTER 50-56 OC-1
0:53:17
2
OC-1
Micah
Doi
1
M-OPEN 19-29 OC-1
0:54:18
3
OC-1
Jared
Washkowitz
1
M-OPEN 30-39 OC-1
0:55:04
4
OC-1
Judd
Engleman
1
M-MASTER 40-49 OC-1
0:55:29
5
OC-1
David
Pence
1
M-KAPUNA 57-63 OC-1
0:55:57
6
OC-1
Jay
Tada
2
M-SR.MASTER 50-56 OC-1
0:56:40
7
OC-1
Todd
Finlayson
3
M-SR.MASTER 50-56 OC-1
0:56:41
8
OC-1
Scott
McIntre
2
M-MASTER 40-49 OC-1
0:57:46
9
OC-1
Erwin
Soares
4
M-SR.MASTER 50-56 OC-1
0:59:31
10
OC-1
Kate
Laethem
1
F-OPEN 19-29 OC-1
1:00:13
11
OC-1
Derick
Gomes
5
M-SR.MASTER 50-56 OC-1
1:00:34
12
OC-1
Chase
Kessler
1
M-Jr.18 & Under OC-1
1:01:40
13
OC-1
Joseph
Whitmore
6
M-SR.MASTER 50-56 OC-1
1:02:03
14
OC-1
Dana
Souza
2
M-OPEN 19-29 OC-1
1:02:21
15
OC-1
Leonard
Lepine
1
M-SUPER KAPUNA 64-69 OC-1
1:02:29
16
OC-1
Kathleen
McGovern-Hopkins
1
F-KAPUNA 57-63 OC-1
1:03:48
17
OC-1
Jared
St. John
2
M-SUPER KAPUNA 64-69 OC-1
1:03:58
18
OC-1
Tony
Levora
2
M-Jr.18 & Under OC-1
1:10:38
19
OC-1
John
Klaiber
7
M-SR.MASTER 50-56 OC-1
1:13:33
1
OC-2
Lindsay
Shinall
Julie
Gomersal
1
F-OPEN(OC-2)
0:59:27
1
Prone
Mike
Pharaon
1
M-Prone 12′ Paddleboard
1:10:19
2
Prone
Robert
Villarreal
2
M-Prone 12′ Paddleboard
1:49:02
1
SUP
Adrian
Dy
1
M-Stock 12'6 & Under SUP
1:39:02
1
SUP
Kekoa
Kau
1
M-Stock to 14'no rdr SUP
1:04:15
2
SUP
Chauncey
Wallwork
2
M-Stock to 14'no rdr SUP
1:08:02
3
SUP
Edward
Cantere III
3
M-Stock to 14'no rdr SUP
1:29:51
1
SUP
Jane
McKee
1
F-Open/Unlimited Class SUP
1:10:52
1
Surfski
Tyler
Silva
1
M-Jr.18 & Under Surfski
0:54:16
2
Surfski
Kaeo
Kaleoaloha
1
M-MASTER 40-49 Surfski
0:54:35
3
Surfski
Ray
Connelly
1
M-SR.MASTER 50-56 Surfski
0:54:59
4
Surfski
Blane
Chong
2
M-SR.MASTER 50-56 Surfski
0:56:04
5
Surfski
Marc
Newman
2
M-MASTER 40-49 Surfski
1:01:54
6
Surfski
Jeff
Peterson
1
M-KAPUNA 57-63 Surfski
1:07:47
1
V-1
Aaron
Costa
1
M-OPEN V-1
1:15:05