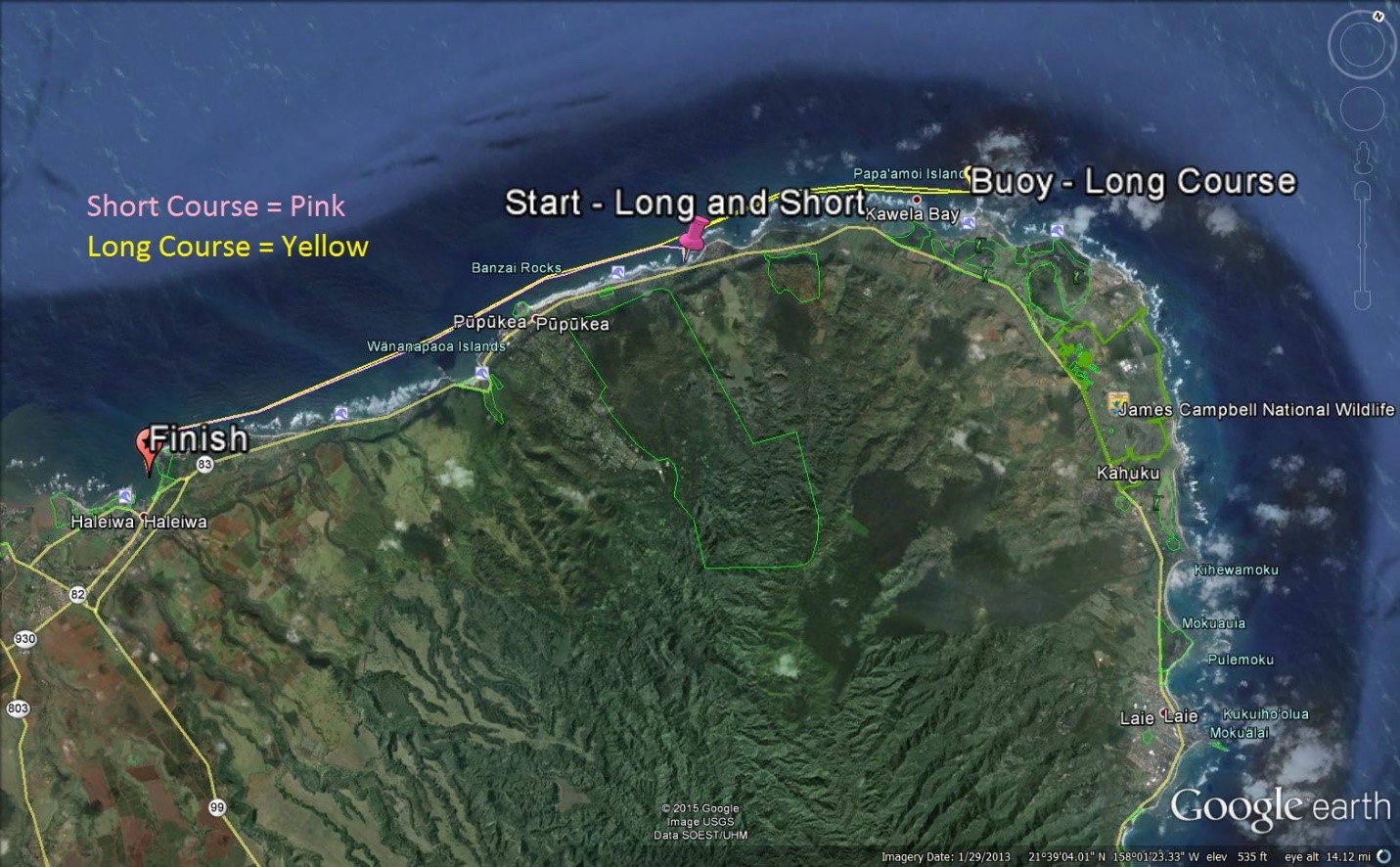 Sunset Beach to Kawela Bay and back to Haleiwa – Saturday March 28
Alternate course if high surf: Hawaii Kai to Magic Island – Sunday March 29
Pre-registration: $30.00 at Foti Paddlesports store or at www.flpregister.com until midnight Thurs. March 26.
Late registration on race day: $35.00
Check in at Sunset 8:30AM-9:45AM. RACE START: 10:30 AM.
Divisions: OC-6, OC-3, OC-2, OC-1, Surfski, SUP, Prone, V-1
Long course: 12 miles – Start at Sunset Beach. Then head east towards Kawela Bay for 1-2 miles. Turn around and finish at Haleiwa.
Short Course: 8 miles – Sunset to Haleiwa
$720.00 Purse for OC-1.
Hotspot–Turn Buoy at Kawela: $100.00 men – $60.00 women
1st place overall: $200.00 men – $120.00 women-plus Maui Jim Sunglasses
2nd place overall: $100.00 men – $60.00 women
3rd place overall: $50.00 men – $30.00 women
This race is sponsored by Allstate Insurance. Prizes will include Mac 24/7 Bar and Restaurant gift certificates, Oiwi paddling gear, Aloha Gas cards, Jamba Juice smoothie certificates, Maui Jim Sunglasses, Cerveza Pacifico, Barefoot Wine & Bubbly, GR3EN Energy, Scott Hawaii, Mahiku Activewear and more.
| Overall Place | Craft | FIRST NAME | LAST NAME | FIRST NAME2 | LAST NAME2 | Division | Overall Time |
| --- | --- | --- | --- | --- | --- | --- | --- |
| LONG COURSE | | | | | | | |
| 1 | Surfski | Zsolt | Szadovski | | | M-40-49 Surfski | 1:07:23 |
| 2 | OC-1 | Travis | Grant | | | M-30-39 OC-1 | 1:11:03 |
| 3 | OC-1 | Bobby | Pratt | | | M-19-29 OC-1 | 1:11:11 |
| 4 | OC-1 | Jimmy | Austin | | | M-30-39 OC-1 | 1:11:22 |
| 5 | OC-1 | Kalei | Kaho'okele | | | M-19-29 OC-1 | 1:11:32 |
| 6 | Surfski | Ed | Joy | | | M-50-56 Surfski | 1:11:58 |
| 7 | OC-1 | Kekoa | Kau | | | M-19-29 OC-1 | 1:12:01 |
| 8 | OC-1 | Kai | Chong | | | M-19-29 OC-1 | 1:12:10 |
| 9 | OC-1 | Alfred | Vangieson | | | M-30-39 OC-1 | 1:12:30 |
| 10 | OC-1 | Manny | Kulukulualani | | | M-30-39 OC-1 | 1:12:35 |
| 11 | OC-1 | Jace | Faufata | | | M-30-39 OC-1 | 1:12:40 |
| 12 | OC-1 | Ola | Wright | | | M-30-39 OC-1 | 1:12:45 |
| 13 | Surfski | Courtney | Seto | | | M-50-56 Surfski | 1:12:55 |
| 14 | OC-1 | Justin | Akana | | | M-30-39 OC-1 | 1:13:00 |
| 15 | OC-1 | Kaeo | Abbey | | | M-19-29 OC-1 | 1:13:05 |
| 16 | OC-1 | Mario | Mausio | | | M-30-39 OC-1 | 1:13:10 |
| 17 | OC-1 | Tapa | Worthington | | | M-30-39 OC-1 | 1:14:47 |
| 18 | OC-1 | Trey | Cox | | | M-19-29 OC-1 | 1:14:50 |
| 19 | Surfski | John | Hoogsteden | | | M-50-56 Surfski | 1:14:55 |
| 20 | OC-1 | Aaron | Napeolan | | | M-40-49 OC-1 | 1:15:04 |
| 21 | OC-1 | Chauncey | Cody | | | M-19-29 OC-1 | 1:15:21 |
| 22 | OC-1 | Gavin | Hanoa | | | M-30-39 OC-1 | 1:15:36 |
| 23 | OC-1 | Andreas | Gaeta | | | M-30-39 OC-1 | 1:16:45 |
| 24 | Surfski | Tyler | Jaggers | | | M-19-29 Surfski | 1:16:47 |
| 25 | OC-1 | Heath | Hemmings | | | M-40-49 OC-1 | 1:16:51 |
| 26 | OC-1 | Conrad | Martin | | | M-19-29 OC-1 | 1:16:58 |
| 27 | OC-1 | Justin | Watts | | | M-19-29 OC-1 | 1:17:01 |
| 28 | OC-1 | Chris | Tanaka | | | M-30-39 OC-1 | 1:17:03 |
| 29 | OC-1 | Danny | Sheard | | | M-50-56 OC-1 | 1:17:16 |
| 30 | OC-1 | Jim | Foti | | | M-40-49 OC-1 | 1:17:45 |
| 31 | OC-1 | Nick | Ho | | | M-30-39 OC-1 | 1:18:51 |
| 32 | OC-1 | Sean | Kaawa | | | M-40-49 OC-1 | 1:18:54 |
| 33 | OC-1 | James | Donovan | | | M-19-29 OC-1 | 1:19:04 |
| 34 | OC-1 | Nakoa | Gumapac-Mcguire | | | M-19-29 OC-1 | 1:19:32 |
| 35 | OC-1 | Christian | Bradley | | | M-19-29 OC-1 | 1:19:41 |
| 36 | OC-1 | Lindsey | Shank | | | F-30-39 OC-1 | 1:19:43 |
| 37 | OC-1 | Cory | Nakamura | | | M-30-39 OC-1 | 1:20:04 |
| 38 | OC-1 | Philip | Yee | | | M-40-49 OC-1 | 1:20:12 |
| 39 | OC-1 | Alfred | Horner | | | M-40-49 OC-1 | 1:20:21 |
| 40 | OC-1 | Justin | Soares | | | M-19-29 OC-1 | 1:21:22 |
| 41 | OC-1 | Johnny | Lynham | | | M-30-39 OC-1 | 1:21:42 |
| 42 | OC-1 | Kelsa | Gabhart | | | F-30-39 OC-1 | 1:21:55 |
| 43 | V-1 | Hayden | Ramler | | | M-OPEN V-1 | 1:22:21 |
| 44 | OC-1 | Nathan | Deyoe | | | M-Jr.18 & Under OC-1 | 1:22:27 |
| 45 | OC-1 | Kaimana | Gomes | | | M-Jr.18 & Under OC-1 | 1:23:15 |
| 46 | OC-1 | Kane | Jervis | | | M-30-39 OC-1 | 1:23:19 |
| 47 | OC-1 | Amy | Lawson Woodward | | | F-19-29 OC-1 | 1:23:23 |
| 48 | OC-1 | Jeff | Chang | | | M-57-63 OC-1 | 1:23:29 |
| 49 | OC-1 | Darryl | Ah Mau | | | M-50-56 OC-1 | 1:23:55 |
| 50 | OC-1 | Cliff | Tillotson | | | M-57-63 OC-1 | 1:24:03 |
| 51 | V-1 | Makena | Fernandez | | | M-OPEN V-1 | 1:24:07 |
| 52 | OC-1 | Christophe | Jackson | | | M-30-39 OC-1 | 1:24:32 |
| 53 | Surfski | Charles | Brand | | | M-50-56 Surfski | 1:25:10 |
| 54 | OC-1 | Mark | Miller | | | M-50-56 OC-1 | 1:25:20 |
| 55 | OC-1 | Mary | Smolenski | | | F-50-56 OC-1 | 1:25:42 |
| 56 | OC-1 | Eulogio | Mangasar | | | M-40-49 OC-1 | 1:25:59 |
| 57 | OC-1 | Robert | McOwen | | | M-50-56 OC-1 | 1:26:04 |
| 58 | Surfski | Ale | Hedlund | | | F-Jr.18 & Under Surfski | 1:26:06 |
| 59 | OC-1 | Nikki | Radford | | | F-40-49 OC-1 | 1:26:46 |
| 60 | OC-1 | Adrian | Flack | | | M-19-29 OC-1 | 1:27:24 |
| 61 | OC-1 | Tom | Zelko | | | M-57-63 OC-1 | 1:27:31 |
| 62 | OC-1 | Alex | Arasawa | | | M-30-39 OC-1 | 1:28:01 |
| 63 | OC-1 | Anella | Borges | | | F-30-39 OC-1 | 1:28:08 |
| 64 | OC-1 | Leilani | Loredo | | | F-30-39 OC-1 | 1:28:11 |
| 65 | OC-1 | Paul | Lee | | | M-40-49 OC-1 | 1:28:36 |
| 66 | OC-1 | Jason | Labranch | | | M-40-49 OC-1 | 1:28:45 |
| 67 | OC-1 | Lauren | McDowell | | | F-30-39 OC-1 | 1:28:54 |
| 68 | OC-1 | Raylen | Clarke | | | M-57-63 OC-1 | 1:30:03 |
| 69 | OC-1 | Rachel | Fujita | | | F-19-29 OC-1 | 1:31:55 |
| 70 | OC-1 | Kelly | Smith | | | F-50-56 OC-1 | 1:32:58 |
| 71 | OC-1 | Verena | Snively | | | F-30-39 OC-1 | 1:35:51 |
| 72 | OC-1 | Rachel | Orange | | | F-30-39 OC-1 | 1:35:52 |
| 73 | OC-1 | Alyssa | Smith | | | F-30-39 OC-1 | 1:38:17 |
| 74 | OC-1 | Darin | Kohara | | | M-40-49 OC-1 | 1:39:57 |
| 75 | OC-1 | Douglas | Smith | | | M-50-56 OC-1 | 1:54:17 |
| 76 | OC-1 | Kelly | Godwin | | | F-30-39 OC-1 | 2:06:12 |
| Overall Place | Craft | FIRST NAME | LAST NAME | FIRST NAME2 | LAST NAME2 | Division | Overall Time |
| --- | --- | --- | --- | --- | --- | --- | --- |
| SHORT COURSE | | | | | | | |
| 1 | Surfski | Kaleikoa | Kaleoaloha | | | M-19-39 Surfski | 1:01:43 |
| 2 | OC-1 | Jamie | Brown | | | M-50-56 OC-1 | 1:01:56 |
| 3 | OC-2 | Denise | Darval-Chang | Shien Lu | Stokesbary | F-OPEN(OC-2) | 1:02:29 |
| 4 | OC-1 | Patrick | Aweau | | | M-50-56 OC-1 | 1:03:59 |
| 5 | Surfski | Ray | Connelly | | | M-50-56 Surfski | 1:04:02 |
| 6 | Surfski | Kaeo | Kaleoaloha | | | M-40-49 Surfski | 1:04:34 |
| 7 | OC-1 | Zak | Shinall | | | M-40-49 OC-1 | 1:06:07 |
| 8 | OC-1 | Judd | Engleman | | | M-40-49 OC-1 | 1:06:48 |
| 9 | OC-1 | Pete | Mainz | | | M-30-39 OC-1 | 1:06:53 |
| 10 | OC-1 | David | Seghorn | | | M-50-56 OC-1 | 1:07:09 |
| 11 | OC-1 | Jared | Washkowitz | | | M-30-39 OC-1 | 1:07:11 |
| 12 | Surfski | Blane | Chong | | | M-50-56 Surfski | 1:07:17 |
| 13 | OC-1 | Twain | Newhart | | | M-50-56 OC-1 | 1:07:24 |
| 14 | OC-1 | David | Pence | | | M-57-63 OC-1 | 1:08:06 |
| 15 | OC-1 | Scott | Del Rey | | | M-50-56 OC-1 | 1:08:38 |
| 16 | OC-1 | Leighton | Kapana | | | M-57-63 OC-1 | 1:10:44 |
| 17 | OC-1 | Damon | Sweazy | | | M-50-56 OC-1 | 1:10:56 |
| 18 | OC-1 | Jay | Tada | | | M-50-56 OC-1 | 1:11:05 |
| 19 | OC-1 | Jaymar | Bucasas | | | M-30-39 OC-1 | 1:11:23 |
| 20 | OC-1 | Varina | Amuntiad | | | F-30-39 OC-1 | 1:11:36 |
| 21 | OC-1 | Carmen | Vankralingen | | | F-50-56 OC-1 | 1:11:45 |
| 22 | OC-1 | James | Fabrigas | | | M-50-56 OC-1 | 1:13:28 |
| 23 | OC-1 | Katie | Laethem | | | F-19-29 OC-1 | 1:14:00 |
| 24 | OC-1 | Maurie | Feldberg | | | M-40-49 OC-1 | 1:14:22 |
| 25 | OC-1 | Kathleen | McGovern-Hopkins | | | F-57-63 OC-1 | 1:15:35 |
| 26 | OC-2 | Lindsay | Shinall | Julie | Gomersall | F-OPEN(OC-2) | 1:16:05 |
| 27 | OC-1 | Gregg | Longanecker | | | M-50-56 OC-1 | 1:16:30 |
| 28 | Surfski | Marc | Newman | | | M-40-49 Surfski | 1:16:35 |
| 29 | OC-1 | Tyson | Byram | | | M-30-39 OC-1 | 1:20:33 |
| 30 | OC-1 | Michelle | Campillo-Peters | | | F-50-56 OC-1 | 1:20:54 |
| 31 | OC-1 | Miles | Maloy | | | M-19-29 OC-1 | 1:22:02 |
| 32 | OC-1 | Daniel | Mergenthaler | | | M-30-39 OC-1 | 1:29:27 |
| Overall Place | Craft | FIRST NAME | LAST NAME | FIRST NAME2 | LAST NAME2 | Division | Overall Time |
| --- | --- | --- | --- | --- | --- | --- | --- |
| SUP & PRONE PADDLEBOARD | | | | | | | |
| 1 | SUP | Ingo | Rademacher | | | M-Open/Unlimited Class SUP | 1:11:13 |
| 2 | SUP | Noah | Garfield | | | M-Open/Unlimited Class SUP | 1:11:26 |
| 3 | SUP | Alex | Look | | | M-Stock 12'6 & Under SUP | 1:14:28 |
| 4 | SUP | Kione | Dahlin | | | M-Stock to 14'no rdr SUP | 1:16:45 |
| 5 | Prone | Peter | Balding | | | M-Prone 12′ Paddleboard | 1:23:42 |
| 6 | SUP | Sven | Wesley | | | M-Open/Unlimited Class SUP | 1:24:06 |
| 7 | SUP | Walter | Dower | | | M-Stock to 14'no rdr SUP | 1:24:14 |
| 8 | SUP | Andris | Bisnieks | | | M-Stock to 14'no rdr SUP | 1:24:31 |
| 9 | SUP | Jane | McKee | | | F-Open/Unlimited Class SUP | 1:26:33 |
| 10 | Prone | Scott | Shimada | | | M-Prone 12′ Paddleboard | 1:28:30 |
| 11 | Prone | Augie | Camello | | | M-Prone Unlimited Paddlebo | 1:29:06 |
| 12 | SUP | Van | Wicklund | | | M-Stock 12'6 & Under SUP | 1:29:34 |
| 13 | SUP | Kai | Binney | | | M-Stock 12'6 & Under SUP | 1:30:01 |
| 14 | SUP | Jennifer | Polcer | | | F-Stock to 14'no rdr SUP | 1:30:23 |
| 15 | SUP | Matt | Carreras | | | M-Stock to 14'no rdr SUP | 1:32:26 |
| 16 | SUP | Rob | Santos | | | M-Stock to 14'no rdr SUP | 1:36:27 |
| 17 | Prone | Johnel | Abramson | | | M-Prone Unlimited Paddlebo | 1:39:21 |
| 18 | SUP | Kevin | Kondo | | | M-Stock to 14'no rdr SUP | 1:40:53 |
| 19 | SUP | Emmanuel | Asejo | | | M-Stock to 14'no rdr SUP | 1:42:07 |
| 20 | Prone | Tj | Marcinczyk | | | M-Prone 12′ Paddleboard | 1:43:03 |
| 21 | SUP | Kyler | Kerbox | | | M-Stock 12'6 & Under SUP | 1:45:01 |
| 22 | SUP | Ron | Wong | | | M-Stock 12'6 & Under SUP | 1:46:50 |
| 23 | SUP | Audrey | Lee | | | F-Stock to 14'no rdr SUP | 2:01:59 |